InvestorPlace – Stock Market News, Stock Advice & Trading Tips
Although the equities sector has provided incredible gains for those contrarians who bought during the doldrums of 2020, the market also may be stretched. In that case, shifting funds over into cryptocurrencies might make sense. But here too, several major digital assets have soared to incredible and in some cases unprecedented heights. That fact leaves many potential modern gamblers seeking answers as to which meme cryptos to buy.
Now, let me be clear about the last point. I mention that meme cryptos to buy — or those assets that have meme-ish qualities — are dangerous not to disparage the action. You just got to look at the situation from my perspective. I don't want to be the guy recommending a risky investment, only for the less well versed to suffer devastating consequences.
I care about my readers managing their risks and understanding their investments. Especially with speculative cryptos to buy, you've got to do your homework.
That said, as the stock market continues to reach toward ever higher record valuations, the math for meme cryptos to buy starts to be more intriguing. As major benchmark indices rise, the law of large numbers kicks in. Put simply, you need more energy to lift a heavier object. On the other hand, speculative digital assets benefit from the law of small numbers: it doesn't take much to swing the needle.
Again, let's be careful. The law of small numbers does not guarantee that meme cryptos to buy will be profitable. While something fundamentally inconsequential as an unsubstantiated rumor can skyrocket valuations, a similar non-event could send less-established digital assets cratering back down to earth. It's truly a live-by-the-sword, die-by-the-sword arena.
Nevertheless, with popular meme stocks — you know which ones they are — printing disappointing consolidation patterns, it's possible that more money will filter into riskier virtual currencies and tokens. If so, here are the cryptos to buy:
Shiba Inu (CCC:SHIB-USD)
Dogecoin (CCC:DOGE-USD)
Taboo Token (CCC:TABOO-USD)
Axienomics (CCC:AXIN-USD)
Kodi (CCC:KODI-USD)
Ariva (CCC:ARV-USD)
Kitty Inu (CCC:KITTY-USD)
Let me lawyer up by declaring clearly that when I say cryptos to buy, I'm cynically using a rhetorical device in the aim of catching the eye of Google algorithms. Never buy any of the above cryptos — or any digital asset period — without having conducted extensive due diligence. And when you've finished your due diligence, do it again. Seriously.
Meme Cryptos to Buy: Shiba Inu (SHIB)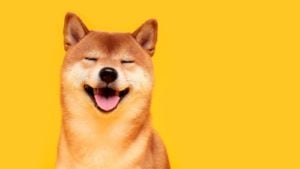 Source: Shutterstock
Are you tired of reading Shiba Inu content? No? Well, good because I'm not tired of writing about Shiba Inu. I'm not saying that as a threat. Rather, I've been tasked to write non-stop about this most popular of meme cryptos to buy and I never back down from a worthy challenge.
As you might be aware from my earlier articles about the topic, I wasn't a big fan of SHIB. Honestly, when you work hard for your money, you don't want to just throw your funds — even if they're earmarked for speculation — toward any junk asset. Without a cohesive ethos behind Shiba Inu tokens (other than the obvious), I didn't see the point.
However, that might be the charm. As you'll soon see in an article I wrote for InvestorPlace, SHIB's extreme riskiness is ironically the organic calling card for prospective traders to not get themselves in over their heads. Put another way, because SHIB is so dangerous, it makes people come to their senses.
Therefore, Shiba Inu is a play on the greater fool theory. If you're okay with that, then trade away.
Dogecoin (DOGE)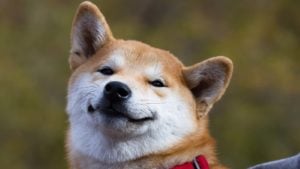 Source: Wollertz / Shutterstock
The one that started it all — at least I think it did — Dogecoin initially entered the decentralized arena as a joke. And while people were laughing at the coin (including fortuitous holders like yours truly), this year certainly shut critics up. Still, a Kiplinger article warned that those just learning about the "opportunity" shouldn't make themselves the punchline.
Frankly, for the longest time that was my argument and in spirit, it remains the case. Nevertheless, even the Wall Street Journal — which of course is not in the business of supporting frivolous trades — admitted to Dogecoin's resilience. Thanks to strong celebrity backing fueling an already ravenous community, DOGE took on a life of its own.
So, is the canine-inspired meme one of the cryptos to buy for the speculative side of your digital portfolio? It very well could be under a narrow context. As established leader Bitcoin (CCC:BTC-USD) climbs further into the stratosphere, BTC investors take on greater risk for limited rewards.
In Dogecoin's case, speculators are indeed absorbing substantial risk but in exchange for robust profitability potential.
Meme Cryptos to Buy: Taboo Token (TABOO)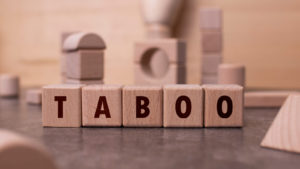 Source: BabLab / Shutterstock.com
Taboo Token is apparently one of the hottest digital assets among meme cryptos to buy. Given its name, I imagined that the asset was tied to the seedy side of the decentralized market. If that's what you were looking for, you will not be disappointed.
I'm not going to go into the gory details to keep this discussion above the board. However, per CoinMarketCap, Taboo is a non-fungible token (NFT) and streaming media project with a specialty in the fabric-free industry. And while decentralized protocols brag about their frictionless transactions, Taboo Token incorporates friction-based transactions, if you know what I mean.
The core reason why you may want to leave a deposit in Taboo is the prevalence of "questionable" content on the internet. To be fair, statistical data on the topic varies depending on the source. However, I think it's safe to say that there's very easy access to the stuff.
So, demand in a cynical sense will theoretically be robust so long as humans exist. That basic thesis alone shouldn't be the reason why you buy TABOO, but the choice is yours.
Axienomics (AXIN)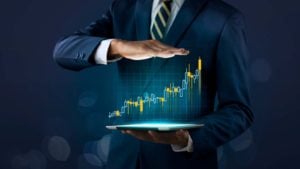 Source: Shutterstock
Another one of the top-trending cryptos to buy that flashed at the time of this writing, Axieonomics seems to provide an intriguing narrative, although how workable it will be is a massive question mark. Still, CoinMarketCap describes AXIN as follows:
"Axienomics is an elastic supply token designed with holders in mind, with an ever-increasing price. Holders are vastly rewarded as the smart contract is hard coded to increase the price. Different than just a normal pegged token/stable coin rebases make price-elastic tokens into synthetic commodities with fluctuating values and supplies that gradually stabilize. Ultimately, rebases are designed to be tradable and potentially extremely profitable."
Now, you might be wondering how elastic coins differ from stablecoins. Well, stablecoins are pegged to the U.S. dollar while elastic coins "aim for a target price through a time-varying token supply." Thus, assets like AXIN seem to imply that they rebalance to intrinsically establish their value.
As I said, it's an intriguing concept. However, Axienomics and others like it are highly experimental. It's not my cup of tea, but if you want to throw some coffee-break money here, you could.
Meme Cryptos to Buy: Kodi (KODI)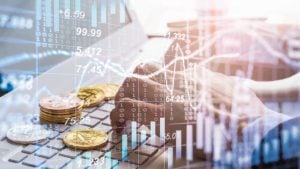 Source: Shutterstock
Another one of the meme-inspired cryptos to buy, Kodi has really caught on. In the past seven days, KODI tokens have gained nearly 700%. Yes, we often use exaggerative terms to describe the volatility of virtual assets but that is a very impressive gain.
As with so many of these meme cryptos to buy, this research is the first time I'm hearing about many of these assets, including Kodi. Considering that there are well over 13,000 coins and tokens today, I can't possibly know them all. To shortcut, here's CoinMarketCap's explanation:
"Kodi provides its users with the first ever crypto based Entertainment Network. Parallel to this, Kodi is operating a one stop shop Advertisement/Marketing Agency known as 'PITCH', which will function as a subsidiary company. Both entities will encompass a use case that will directly benefit $KODI holders."
Before you laugh off Kodi, keep in mind that the blockchain in media, advertising, and entertainment industry reached a valuation of nearly $167 million in 2020. By 2026, experts project the sector to hit nearly $4.4 billion.
Ariva (ARV)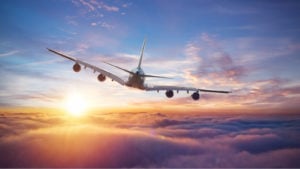 Source: Shutterstock
When internet-based bookings took off, travel agents must have surely felt the pressure starting to creep up around their necks. With easy access to flights and hotels, anybody could log in and cut out the middleman.
To be sure, the occupation's numbers have gone down dramatically, yet it's not quite dead. In fact, it's rather robust considering the circumstances. However, it appears that Ariva, a new decentralized travel-industry project, would like to finish what the internet started.
"ARV has been produced for active use in global and local tourism and travel networks in the near future. Project is a worldwide B2C travel & tourism network where members can meet with global and local tourism service providers in the light of previous travelers' experiences and shares, make bookings with Cryptocurrency and earn crypto money from both their reservations and valuable content sharing."
It's almost as if dedicated travel agents can't get a break. With Ariva, not only is the middleman cut out, its blockchain architecture allow for travel agency services to be distributed publicly, allowing for each participant to earn a cut.
Now, I'm not sure how successful this project will be, but my goodness is it creative.
Meme Cryptos to Buy: Kitty Inu (KITTY)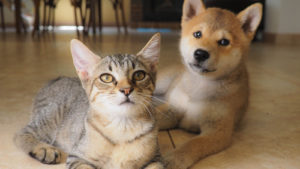 Source: Iness_la_luz / Shutterstock.com
Among the various projects undergirding cryptos to buy, a common theme that arises is democratization. In other words, by deleveraging the power of economics away from central banks and government agencies and to the people, the blockchain as a broad concept can help promote social equity.
If you want my opinion, I think this is libertarian madness at its absolute peak. Nevertheless, as a microcosm, risky cryptos to buy are indeed democratic and inclusive. Why should the dogs have all the fun when cats are equally deserving of attention in the digital asset space?
Thus, we have the ironically labeled Kitty Inu. What is Kitty Inu, you ask? The heck if I know, so I'll shamelessly quote CoinMarketCap once again:
"Inspired by the rise of Shiba Inu and Floki Inu, Kitty Inu is an ERC-20 Cryptocurrency joining the cryptoverse to teach an old doge some new tricks! Kitty's mission is to build one of the best and biggest crypto communities in the world backed by one of the best teams in Defi. Part Kitty, Part Inu, Kitty Inu will woof and meow its way to the moon."
Folks, KITTY is simply a play on the greater fool theory. You buy it hoping that some poor chump will buy at a higher price before the token implodes.
On the date of publication, Josh Enomoto held a LONG position in DOGE and BTC. The opinions expressed in this article are those of the writer, subject to the InvestorPlace.com Publishing Guidelines.
A former senior business analyst for Sony Electronics, Josh Enomoto has helped broker major contracts with Fortune Global 500 companies. Over the past several years, he has delivered unique, critical insights for the investment markets, as well as various other industries including legal, construction management, and healthcare.
The post 7 Meme Cryptos to Buy for Gamblers Tired of the Stock Market appeared first on InvestorPlace.
The views and opinions expressed herein are the views and opinions of the author and do not necessarily reflect those of Nasdaq, Inc.